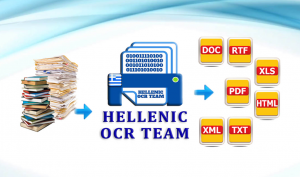 The Hellenic OCR Team has now its own website! Following our presence on Linkedin, our website shall present our crowdsourcing activities and extend our visibility to interested third parties. Information science professionals, data scientists, linguists and students from a wide spectrum of fields are hereby invited to participate to an one-of-its-kind cooperative platform for the processing and study of parliamentary data. More details may be found in our open Call for Members.
Our web site follows a visitor-friendly all-in-one-page modular design, which includes four sections:
About us: a short presentation of our initiative including incentives for our members
The Team: a list of our members and their scientific/professional background
Locations: a map with member locations
Blog: a blog with frequent updates on our activity
Below, one may found a series of representative screenshots.
Links