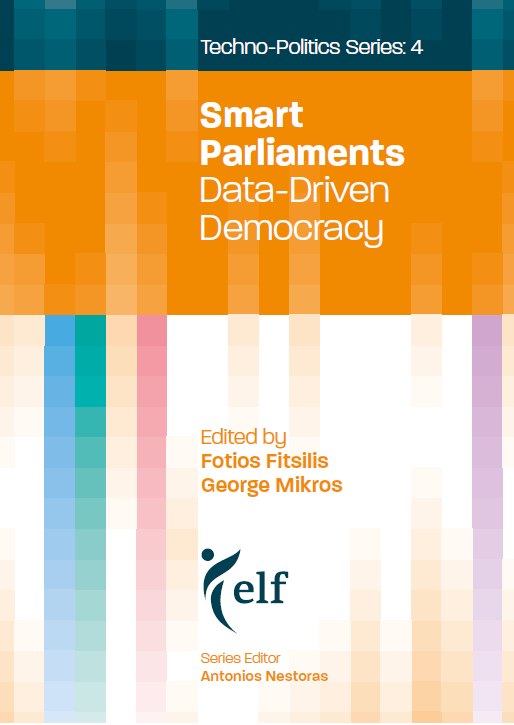 The Hellenic OCR Team is incredibly proud to announce the publication of its first collective authoring effort titled Smart Parliament: Data-driven Democracy. The book is jointly edited by the Team's co-founders, Fotis Fitsilis and George Mikros. The book is published by the European Liberal Forum as part of its Techno-Politics Series.

This is a special edited volume on the occasion of the 5th anniversary from the establishment of the Hellenic OCR Team and it is dedicated to its work and the results achieved in all those years. Smart Parliaments: Data-Driven Democracy highlights the role of data within both centuries-old and relatively novel institutional functions such as legislative work and parliamentary diplomacy. It is precisely this balanced focus on both tradition and innovation that makes this work stand out. Moreover, the book systematically avoids a purely scholarly character for the sake of a more practical and tangible approach to parliamentary evolution. It offers ideas instead of assumptions, solutions instead of missals, and presents a range of options instead of a single truth.
With more than 20 co-authors and three parts full of insights about the digital transformation of the parliamentary workspace, the book fills a significant gap in the bibliography on representative institutions. In particular, the book's structure is as follows:
Part I – Text Mining Approaches to Parliamentary Discourse
Part II – Advanced Tools and Methods for the Digital Transformation of Parliaments
Part III – Parliaments' Digital Transformation and Policy
As such, it is the product of five years of work by the international expert network of The Hellenic OCR Team and collaborating researchers. This is an open access publication that can be freely downloaded and disseminated. Many thanks go to the series editor Antonios Nestoras, the reviewers, our graphic designer Tonia Becou, and above all to our authors: Panagiotis Krimpas, Afroditi Giovani, Maria Kamilaki, Sotiris Leventis, Leonidas Kallipolitis, Panagiotis Katrakazas, Iraklis Varlamis, Apostolos Dalas, Xenia Ziouvelou, George Giannakopoulos, Vassilis Giannakopoulos, Cincunegui Juan de Dios, Luis kimaid, Sarah Fernandes, Thomas Saalfeld, Dmytro Lutsenko, Marie-Madeleine Eklund, Dimitris Koryzis and Dimitris Spiliotopoulos.
Download it from here.
********